---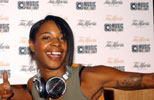 14 August, 2003: Sonique at Destiny / Cambridge Street club, 16 August
It's a double date for divas at Destiny this Saturday, 16 August, when two ladies of dance bring their bodies and their beats to the Cambridge Street club.
Sonique, who has just completed her second album, «Born to be free», and is about to release her new single, «Alive», next month, is the first of the fine femmes of dance to top
the bill.
At 6ft 2ins tall with her heels on, Sonique's stature and strong personality means she towers head and shoulders above most dance world divas.
Despite once saying she'd give it all when she grew bored with the scene, she is back with a vengeance to play and perform. She told Beverley Lyons of the Evening Times: "I've been DJing every weekend for the last two years and have been around the world. I wanted all the people who have bought my records all over the world to hear my DJing."
From Egypt to Israel, Romania to Russia and Singapore to South Africa (where she recently drew a 30,000-strong crowd), clubbers everywhere have been dazzled by her turntable skills.
With little time for a social life, she likes, when she gets the chance, to drive her Aston Martin DB7 Vantage, walk her dog - a much pampered pet who even gets his own hotel room if reports are to be believed - ride her bike and play on her PlayStation.
Somewhere along the line she found the time to write her second album, «Born to be free». Produced by Graeme Pleeth, who has produced for Peter Gabriel, Billy Ocean, Kim Wilde, and Appleton, and Robin Barter, who has worked with Freddie Mercury, Kylie Minogue, and Norman Jay, the new album shows a more grown-up side to Sonique.

Sonique says: "I hope I've made something people can keep, something that'll never go out of style." Excerpts from the album will feature in Saturday night's show.



The second lady to take to the stage at Destiny this weekend is Sonique's support act Lucy Carr. Lucy, for those of you not familiar with her face, is the voice behind top dance tracks «Missing You» and «This is Goodbye», released at the end of last month.
«Missing You» was nominated by Dave Pearce as his Record of the Week on his Radio 1 show and has also featured on many of the top compilation albums of 2003. Lucy cuts quite a figure in the club world.

web resource: The Evening Times