Sonique Got 3 Awards in 2001

Best British Female Solo - International Hit 2000 - DanceStar of the Year
On 26 February 2001 Sonique succeed in the category as Best British Female Solo Artist at the
Earls Court arena in London when the prestigious Brit Awards waited to be given.
Next in May at the 46th Ivor Novello Awards, Sonique won the International Hit of the Year 2000 for «It Feels So Good».
In summer 2001, another ceremony was held at London's Alexandra Palace. The DanceStar Awards - it was only the second annual event on that 6th of June - was hosted by Erick Morillo, founder of New York dance label Subliminal Records, joined by Gail Porter. Superstar DJ Fatboy Slim led the list of nominees with five nods, but walked away with just one award, for Best Breakbeat/Eclectic Act for his Jim Morrison - sampling «Sunset (Bird of Prey)». French duo Daft Punk ousted Fatboy Slim, Sonique and two-step trailblazer MJ Cole in the Best Album category with «Discovery», which was recently released in the U.S. But it ran not worse at all for Sonique - for the worldwide success of her crossover hit «It Feels So Good» she was awarded DanceStar of the Year. Italian house producer Spiller was another big winner on this evening taking home trophies for Best Chart Act, Best House Act and Record of the Year for «Groovejet (If This Ain't Love)».
Before the awards took place Sonique couldn't remember which awards she was up for. "I'm more concerned about the actual performing" she said. "The award part is great and I like that part but winning isn't so much of an issue and I don't expect to win so I'm never prepared. I care about dance music though - that's why I still DJ and keep it real and I'll always support dance music no matter what." She belted out a stunning acapella performance of «I Put a Spell on You» with a 17-piece orchestra to confirm exactly why the singing DJ gets the public vote.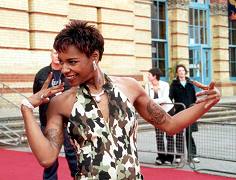 Sonique has worn a £20m diamond necklace to the DanceStar 2001 awards. Organisers of the clubbing event had to hire extra bodyguards to keep an eye on the jewellery. Sonique also performed alongside a host of live DJs including Faithless, Public Domain, M&S, Jakatta, The Architechs and Darude, which won Best Breakthrough Act. Danny Tenaglia and Carl Cox, both awarded as well before, also played an exclusive back-to-back set at the after-party.
Sonique embraced celebrity status when men's magazine MAXIM awarded her Best Singer Award in their 2001 Women of The Year Awards.
Whether she gets any flak for being a lady "spinner" or how to cloak her fame from the eyes of lechers and weirdos and much more personal stuff find out in an interview Sonique gave to FHM magazine (UK) #134, March 2001 …

Click here for a report of the ceremony (Brits 2001) at playlouder.com. An alternative report about the Brits 2001 is to find on the BBC website.

Link to a report of the ceremony of the 46th Ivor Novello Awards. An alternative report about the Ivors was given by the BBC.

Find here a report of the ceremony (DanceStar 2001) courtesy of I like music.com. An alternative report about the DanceStars was given by the BBC.
Once homeless star Sonique launches campaign
Sonique has gone back to school to launch a campaign to tackle issues of youth homelessness.
The Brit-winning dance music star, who used to sleep rough herself, returned to her old school in Crouch End, North London, to endorse homeless charity Shelter's new educational plan.
The Housemate scheme was devised after Shelter consulted groups of homeless young people across the UK, none of whom had learned about housing and homelessness at school and found they felt there was a place for it alongside sex and drugs education. The secondary school pack contains activities and materials to stimulate debate by asking questions, organised into modules such as Why Are People Homeless and Finding A Place To Live. The project was formed in response to a demand for more information about housing problems among young people, who felt it should be a part of 'social skills' teaching.
Sonique, who was this year crowned Best Female Artist at the Brits, came back to Highgate Wood School to speak to a gaggle of 12- and 13-year-olds keen on her music but also interested to hear her important message. In 1985, aged just 16, Sonique moved into a YMCA hostel when her mother remarried and moved back to Trinidad. Living with the daily threat of sexual harassment from a hostel warden and facing mounting debt, she soon found herself homeless.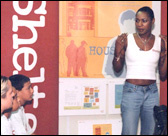 The 32-year-old chart topper said: "I have first-hand experience of what it is to be homeless. It was one of the lowest points of my life. Like so many others who are homeless, I felt vulnerable, afraid and alone, and my life was put on hold. I felt I was in a big hole. There's a tendency to think that homelessness is something that happens to someone else. It doesn't. It's real and happens to thousands of youngsters every year and it happened to me. Through hard work and good fortune I've got my life together and now enjoy a rewarding and successful singing career. However, others are not so lucky and that's why I'm
supporting Shelter's Housemate educational campaign."
"Homelessness is as relevant to kids today as sex and drugs awareness. The more young people learn about homelessness, the best chance we have of preventing it in the first place. I believe passionately in the work of Shelter. Nobody should have to endure the misery of homelessness."
The pupils' response to Sonique's visit, and Shelter's education packs, was positive. Sharifa Brown, 12, commented, "It's a good way to get children involved and makes everyone very aware of homelessness which is important and a big problem. If people know the problems they can do something about it." Cassie Thompson, 13, said, "Sonique is a busy pop star but she is thinking about other people and not just herself like some pop stars do." Lance Downer, 12, said: "It's good that Sonique is here as she went to our school - she is a great person."

Shelter is delighted to have such a high-profile supporter. Charity director Chris Holmes said: "We're very grateful to Sonique and British Telecom for supporting Housemate. Sadly too many lives are blighted by homelessness because of a lack of understanding and knowledge about what it means to be homeless and how it can be prevented. I hope that teachers in secondary education across the UK will use Housemate and in doing so help reduce youth homeless-
ness."
(July 11, 2001)

Click here for «Sonique goes back to school» - The DJ explains why there's no place like home. This is an article which was produced by Gabriella Gay, age 15, Camille Noriega, 16, Abeyna Jones and Tinu Adeniji-Adele, both 18. It was published as part of Teen Talk, the Children's Express page in "New Nation", on 30 July, 2001.
Sonique on her passion for dance
As a performer on stage, Sonique likes to be surrounded by live horns, strings, bass, and synthesizers as well as dancers. "I really put on a show, not just a silly little dance with dancers to make me look like I can dance. One of my favorite things is dance, that whole expression of release. It doesn't matter how bad life is, put on a record and my foot will tap. And if you have no problems, you still have to celebrate life."
Sonique impersonates Donna Summer
Sonique is among the famous names taking part in a new Celebrity Stars In Their Eyes on British Television. She appears as Donna Summer, with Boy George as David Bowie, A1 as The Beatles, Steps star Claire Richards as Karen Carpenter, and Belinda Carlisle as Connie Francis. The show has been recorded and will be screened later this year. The live final of the current series of Stars In Their Eyes took place on July 14, 2001 and featured impressions of Dusty Springfield, Bob Marley and Kylie Minogue.
Click here for a webchat with Sonique at BBC Online on 18 July, 2001. Absolutely interesting stuff!!



Sonique quits DJing (?)

On Oct. 26, 2001, Cream have announced their New Year's Eve plans. Sonique is to headline the event. Two and a half weeks later she announced that she wants to quit the world of DJing after years at the top of her field.
"I don't think there is much to DJ for any more" Sonique explained. "I feel there is something missing in clubland at the moment" she told the London Evening Standard. "There is not the sparkle clubs used to have and the momentum has gone. That was kind of the sentiment of my last single. I seriously want to quit club DJing altogether - and certainly I will be cutting back" Sonique concluded. She will instead concentrate on producing her own material. "I feel there is something missing in clubland at the moment. I want to get more into making records for a new generation of DJs." She added that she intended to focus more on the US and Europe.
Meanwhile, the fans are waiting for the forthcoming album ...