On June 6 at Londonís Alexandra Palace, the biggest names in worldwide dance music went head to head at the most glamorous night of the year. The Dancestar Awards (The Tiscali World Dance Music Awards) is the only show supported by the global dance music industry with winners decided by the public - and what a night it was at Ally Pally. Hosted by the gorge Gail Porter and DJ and founder of Subliminal Records, Eric Morillo - Dancestar 2001 was mega.
Fatboy Slim
Spearheading the nominations was Fatboy Slim with five nominations. On the night Mr. Cook only took away one award, for Best Break-
beat/Eclectic Act but was his usual smiling self nonetheless.
Hot on his heels with four nominations was Spiller featuring Sophie Ellis Bextor who ripped up the dance floors last year with their single «If This Ain't Love». Miss Bextor didn't grace us with her presence but a dazed Spiller was there to collect their three awards for Best House Act, Best Chart Act and 95.8 Capital FM Worldwide Record of the Year.
"The fact that we've got an awards ceremony of
this nature demonstrates how far we've come"



Sonique
Dance Diva and self-confessed white label girl, Sonique, also received four nods and was crowned DanceStar of the Year. Sonique belted out a stunning acappela performance of «I put a Spell on You» with a 17-piece orchestra to confirm exactly why she gets the public vote. Before the awards Sonique couldn't remember which awards she was up for. "I'm more concerned about the actual performing," she said. "The award part is great and I like that part but winning isn't so much of an issue and I don't expect to win so I'm never prepared. I care about dance music though - that's why I still DJ and keep it real and I'll always support dance music no matter what."
Other performances by Architechs, Faithless and Darude went down a storm with everyone. "Faithless are always brilliant", said Sonique.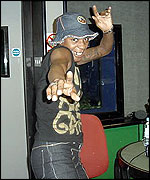 DanceStar of the Year, Sonique, strikes a pose
Two of the most respected DJs in the history of the world also stepped up to the stage to collect their awards. The Almighty King of Dance Music, Carl Cox, collected his award for Outstanding Contribution to Worldwide Dance Music And New York's finest, Danny Tenaglia walked away with Lifetime Achievement Award.
"Five years ago you really had achieved something as a music maker if you got into the top 30 and now it's not uncommon for dance records to get into the top ten and often to number one. The range of compilation albums that are available now and their popularity also recognises how far dance music has come, along with renowned names of the nations top club DJs and the success of dance music on the radio and the way that Radio 1 gives its musical format over to dance music at the weekends. Really there needed to be a nationally recognised dance music awards which the Dancestar represent."
The Judge thought Fergie was deserving of an award, although he lost out to Carl Cox for Best Club DJ.
Jazzy B made a stylish-as-ever appearance as his artist Wookie was up for an award. "We're here for Wookie man", said the ever-cool Jazzy (with a name like that how could you be anything else). Wookie featuring Lain won the Best Garage Award so Jazzy went home a happy man.
Brandon Block interviewed winners backstage and said he really wanted Norman Cook to win an award. In fact, because his good pal, Norman Jay, was also at the ceremony, "an award should go to anyone called Norman," said Brandon.
Seb Fontaine revealed his future telling skills as he predicted the result of the football (UK vs Greece 2-0) and tipped Timo Maas and Future Shock for awards. He was right on all three predictions, as Timo Maas featuring Martin Bettinghaus won Best Trance Act and Future Shock won Best Underground Act.