British Female Solo artist who is of Trinidadian parentage
While enormous hype surrounded Elton John, rapper Eminem and Robbie Williams at 2001's Brit Awards - the British equivalent of the Grammies - little attention was given to Best British Female Solo artist, Sonique, who is of Trinidadian parentage.
Sonique, 33, a singer and DJ won the category amid strong competition from nominees like Sade. In 2000 she has produced three Top 10 singles including the debut single, "It Feels So Good", which spent three weeks at number one on the UK Pop chart, making her the first British female to achieve this since Kate Bush 22 years ago. The song also was in the US Top 10 for more than three months.
Sonique's second single, "Sky" dedicated to her son who was stillborn, went straight to number two and she has done a dance music cover version of Nina Simone's "I Put A Spell On You".

Sonique with her mother Shirley Douglas

But, it was the lack of mention of her in a report carried in a local Trinidadian newspaper, that caused her mother, Shirley Douglas, to approach the Guardian to put things right.
Mrs. Douglas was born in D'Abadie but has lived in London since 1962. Sonique's father, now deceased, although not born in Trinidad, once lived here.
Douglas said: "I just want to set the record straight because somebody's name is missing" (from the article). "I am a proud mum, I must be honest", she added.
Sonique, the eldest of her three children, was "written off" in school because she was dyslexic, Douglas said. But, she was a first class athlete, excelling at the discus, high jump, running, gymnastics and swimming.
Sonique became a DJ through a friend and has risen to become one of the top female DJs in the UK specialising in dance music, and attracts the same salary as her male counterparts.
She has travelled throughout Europe, Australia, Israel and Brazil and fashion designer Donatella Versace and Prince Albert of Monaco rank among her many fans.
Douglas said after reading numerous magazine and newspaper articles about her daughter, she went to witness Sonique's DJ skills herself. She enjoyed the experience and believes what makes her daughter unique is her ability to understand her audience and build a good rapport with them.

(written by Natasha Ofosu / Associated Press)




Sonique on her passion for singing, writing and performing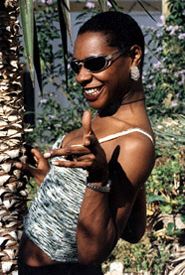 The emotion within Sonique's no.1 song «It Feels So Good» is as deeply felt as her passion for singing, writing and performing. "You have to experience life to sing about it," she says. "I sing about what people might have been through. We're all the same. We're going for the same things in life. I'm very spontaneous. When music's playing I start hearing lyrics." As «It Feels So Good» was making people feel good around the world, the multi-faceted international talent was set to release her first full-length original album, «Hear My Cry». "I am still growing," estimated Sonique. "I feel I'm at the point where my mum would want me to be. I think she'd want me to sing. 'Okay mum, I'll sing then.'"

Links: An interview Sonique gave to FHM (UK) #134, March 2001.



Click here for a webchat with Sonique at BBC Online on July 18, 2001.

Absolutely interesting stuff!!