One happy man who is most definitely a fan of the Ivor Novello Awards is Craig David. He scored a hat-trick of trophies to add to the one he got last year for Re-rewind and an armful of Ivors must have been sweet consolation for him after the disappointment of being passed over entirely by the Brit Awards earlier this year.
"It's an honour and a privilege to have been awarded these accolades by the Academy," said Craig after the ceremony. "It blows my mind to think that I've achieved this at just 20 years old. To receive these three Ivors to add to the one I got last year has motivated me that much more to keep doing what I do best and stay focused."
Craig's Ivors were Best Contemporary Song (Seven Days, written with Mark and Darren Hill); the Ivors Dance Award (Woman Trouble, written with Mark Hill, Robbie Craig and Pete Devereux), and Songwriters of the Year, shared with Mark Hill.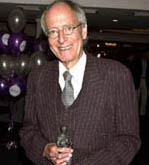 This year's Ivor Novello Awards (for the year 2000) were presented as usual in a packed Great Room of Le Meridien Grosvenor House Hotel in London's Park Lane and generously sponsored again by the Performing Right Society. Each successive Ivors ceremony is notable for something and this year was no exception. The longest standing ovation in the 46-year history of the occasion was given to Stevie Wonder as he went to the stage to receive the Special International Award presented by the PRS and the Academy to non-British writers in recognition of their huge contribution to British musical culture and the world in general. Stevie received his award from Annie Lennox, Dave Stewart and PRS Chief Executive John Hutchinson and then made a touching speech of acceptance and appreciation that moved some of the audience to tears. There was also warm acclamation for legendary film composer John Barry when he was given the second Fellowship of the Academy by Academy President Sir Tim Rice and Chairman Guy Fletcher.
David Gray won the Best Song Musically and Lyrically with Babylon and was sure his father, the late Peter Gray, "would have been over the moon" about it. Shaznay Lewis (see picture left) was in tears and hiding behind her programme as she received the statistical award of PRS Most Performed Work for Pure Shores, written by her with William Orbit and performed by her with All Saints, in the ceremony's season sadly no more as an act, a fact which probably
brought on the tears. Sonique wasn't at all depressed when she received from Denise van Outen another statistical trophy for It Feels So Good as International Hit of the Year. She wrote it with Linus Burdick, Simon Belofsky and Graeme Pleeth.
That inimitable rock 'n' roll survivor Pete Townshend figured twice during the proceedings: presenting the PRS award for Outstanding Contribution to British Music to the Clash, whom he reckons are "a f - - - - - - g gorgeous bunch of blokes", and then later receiving the Lifetime Achievement trophy from another guitar plucker, Bruce Welch. Tennis star Pat Cash presented the International Achievement Award to Iron Maiden and Chris Tarrant did the presentation honours for Roy Wood with regard to the Outstanding Song Collection category. "This will encourage me to go to write some more songs," Roy promised. The small and big screens were represented again by Best Original Music for a TV/Radio Broadcast (Gormenghast, composed by Sir Richard Rodney Bennett) and Best Original Film Score (X-Men, written by Michael Kamen).

Someone understandably not present in person to collect his award for Best Selling UK Single (Can We Fix It, written by Paul Joyce) was Bob the Builder. Too busy building, of course.
The 47th Ivor Novello Awards for British songwriters, composers and music publishers, presented by the British Academy of Composers & Songwriters, will be held at Le Meridien Grosvenor House (Great Room), Park Lane, London W1 on Thursday 23rd May 2002.